An Iconic Marilyn Monroe Gown Goes On the Auction Block (Updated)
Updated: Nov 2, 2019
(Note: This post has been updated to include the sale prices from the auction, which took place on Friday, Nov. 1st; winning bids are reflected in bold.)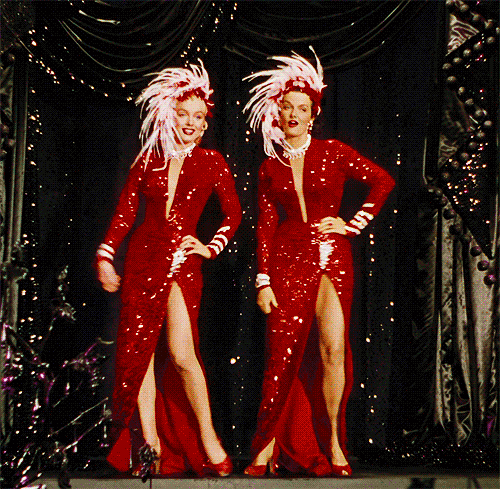 Marilyn Monroe and Jane Russell in 1953's "Gentlemen Prefer Blondes."
There's a secret amid the sequins embellishing one of cinema's most iconic costumes.
When showgirls Lorelei Lee and Dorothy Shaw, played by Marilyn Monroe and Jane Russell, burst through the curtains to perform "Two Little Girls from Little Rock" during the pre-title sequence of 1953's Gentlemen Prefer Blondes, their red gowns glisten in a way that only happens in Hollywood. But there's more to those crimson dresses, by costume designer William Travilla, than the viewer might initially imagine, a design trick not uncommon in the creation of silver-screen magic.
"When you look at the dress in person, certain sequins are a light beige shade, which seems odd for a red sequined dress," notes Martin Nolan, executive director of Culver City, Calif.-based Julien's Auctions. "But then, when you look at [Marilyn Monroe] performing this song onscreen, those beige sequins on the dress pick up the light in a different way, thus creating a 'shimmering' or 'super sparkle' effect. It was really a brilliant invention and obviously one that would only be used on a gown that was made to be seen onscreen only, like this one."
The Travilla gown is estimated to fetch between $60,000 and $80,000 at the sale, set for Nov. 1st in Beverly Hills.
The dress and its matching feathered headpiece are among the highlights of "Property from the Life and Career of Marilyn Monroe," an auction set for Friday, Nov. 1st, at the Standard Oil Building in Beverly Hills. The piece is notable also because it's joined by Russell's costume in the sale — "likely to be the first time these two dresses are together since the movie was filmed in 1953," Nolan points out.
Fans of Monroe, Russell and the Howard Hawks musical can enjoy a pair of opportunities to see the dresses in person when Julien's Auctions presents two previews in advance of the sale: Auction highlights that include the gowns can be viewed in London at The May Fair hotel from Sept. 24th through Oct. 21st, while the complete collection of 353 lots will be on exhibit the week prior to the sale, from Monday, Oct. 28th, through Friday, Nov. 1st, at the Standard Oil Building in Beverly Hills. Both exhibitions are free and open to the public.
The Gentlemen Prefer Blondes gown is joined in the sale by two other costumes seen in Monroe films: a three-piece ensemble Monroe wore for the "Heat Wave" number in 1954's There's No Business Like Show Business, and the yellow and red saloon gown she wears in the final scene of 1954's River of No Return. Travilla also designed the "Heat Wave" costume, while Helen Rose originally created the River of No Return saloon dress, designed for Betty Grable to wear in 1943's Coney Island. Travilla added a back bow and red beading to the gown when it was refashioned for Monroe. A Travilla sketch of the "Heat Wave" costume is also included in the auction and is expected to sell for between $3,000 and $5,000. (The sketch ultimately sold for $11,520.)
Travilla's sketch of Monroe's "Heat Wave" costume in 1954's "There's No Business Like Show Business."
All three costumes carry auction estimates of $60,000 to $80,000 each — though given ongoing trends in memorabilia auctions, it's possible the pieces could fetch much higher prices, especially the Gentlemen Prefer Blondes gown, easily the most instantly recognizable among the trio. "When we're talking about Marilyn Monroe, almost all of her costumes are now embedded in the collective memory, but this one is definitely 'classic Marilyn' in the sense that it's form-fitting, sparkly [and] over-the-top glamorous," Nolan says.
(All three costumes ultimately did exceed their auction estimates: The "Heat Wave" gown sold for $280,000, the red Gentlemen Prefer Blondes gown and headdress sold for $250,000, and the River of No Return dress sold for $175,000. Jane Russell's matching Gentlemen Prefer Blondes gown and headdress, by comparison, sold for $43,750.)
Following its use in the film, Monroe's dress was squirreled away in the 20th Century Fox wardrobe archives, likely saved for possible use in future productions, before it was purchased by Debbie Reynolds in 1971 when the studio hosted two auctions that year, on the heels of MGM's famous sale in 1970, Nolan says. "The execs at Fox allowed Debbie to come in early and cherry-pick pieces she wanted, this Marilyn Monroe dress being one of them," Nolan explains. "Of course she would have had special access to these pieces like no one else because of her status in Hollywood. She had a particular interest in [Monroe] — she understood that she, more than any other actor, represented 'Hollywood' to the rest of the world."
According to Nolan, only one other person has owned the beaded red gown since Reynolds acquired it in 1971; both the dress and headpiece are good condition, "but do show signs of their 66 years, as is normal with textiles," Nolan adds. "The dress does need to be handled quite gently, and our staff are well-trained on how to care for it. The headdress has a few missing feathers from when Monroe wore it, but overall still retains most of its look. The wardrobe departments at the studios knew that many of these special gowns would be re-used in later productions, so they knew how to care for and store them – and then Debbie definitely knew how to care for her garments."
In addition to costumes, the auction features a variety of Monroe's personal items, including a a green silk top and matching skirt by Emilio Pucci ($6,000 to $8,000, sold for $46,875), and a black Henri Bendel silk-crepe cocktail dress, which Monroe reportedly wore to a Some Like It Hot press conference in July 1958; that piece is estimated to sell for between $40,000 and $60,000 (the dress sold for $100,000). Fold in items of furniture (an ornate wooden chair used for a July 1962 Life magazine photo shoot, just one month before Monroe's death, sold for $81,250), a variety of photographs and the kitschier conversation pieces often found at personal-property auctions — from signed checks and prescription pill bottles to a set of her false eyelashes — and the result is a broad range that should please fans of Monroe, who continues to rank high on the list of the most popular celebrities among memorabilia collectors, alongside Elvis Presley, Michael Jackson, Elizabeth Taylor and Jacqueline Kennedy Onassis.
From left, a gown Monroe wore in "River of No Return," her black Henri Bendel cocktail dress, worn to a 1958 press conference for "Some Like It Hot," and her Travilla costume for the "Heat Wave" number in "There's No Business Like Show Business."
Monroe's "Happy Birthday, Mr. President" gown, which set a record when it sold at auction for $4.81 million in 2016.
"Monroe's personal wardrobe is always priced lower, as it's not film-related," Nolan adds of the Henri Bendel dress. "These items are still highly sought after, especially when you can see images of Marilyn wearing the dress for an event or just in her everyday life."
Julien's Auctions boasts a unique history of handling Monroe's costumes and personal property. In 2011, the auction house sold the green Travilla gown Monroe wears in early scenes of River of No Return for $526,000, while perhaps its most important sale occurred in 2016, when Julien's auctioned the legendary "Happy Birthday, Mr. President" gown, a flesh-toned dress that was custom-designed by Jean Louis and featured more than 2,500 crystals, which Monroe wore while famously singing to President John F. Kennedy in May 1962 at Madison Square Garden. The hammer price, before buyer's premium, on that piece? A record-setting $4.81 million. "This was a non-career related dress that Marilyn commissioned and paid for by herself and is today considered one of the most famous dresses of all time," Nolan says. Canadian billionaire James Pattison was revealed to be the buyer of the gown following the sale; he turns 91 on Oct. 1st.
It remains to be seen what sort of prices will be achieved by the trio of costumes and other lots set for sale on Nov. 1st. But not unlike that design trick employed by Travilla on the red Gentlemen Prefer Blondes gown, anything associated with Monroe always carries with it a bit of extra sparkle. Says Nolan, "Any film costume Marilyn Monroe wore is going to be of historical interest, due to the fact that she keeps getting more and more iconic with time."
"Property From the Life and Career of Marilyn Monroe" is part of the "Legendary Women of Hollywood" auction series that includes "Property from the Life and Career of Mae West," also set for Friday, Nov. 1st., and "Property from the Life and Career of Olivia Newton-John," set for Saturday, Nov. 2nd. All three auctions will take place at the Standard Oil Building, 257 N. Canon Dr., Beverly Hills, and online at julienslive.com.