Quiz Answer Key: "How Well Do You Know Hitchcock Style?"
Updated: May 29, 2020
From The Lady Vanishes to North by Northwest, this fun, 12-question quiz tests your knowledge of style in iconic Hitchcock films. 
Eva Marie Saint in 1959's "North by Northwest."
(If you have not yet taken "How Well Do You Know Hitchcock Style?" click here to go straight to the quiz.)
Question #1: In 1938's The Lady Vanishes, what item of fashion is the nun wearing that convinces Margaret Lockwood's Iris that the woman isn't really a nun? 
Answer: Iris: Did you notice the nun in there with the patient? Gilbert: No, not really ... Iris: Nuns don't wear high heels.
Question #2: In 1940's Rebecca, in what magazine does Joan Fontaine's "Mrs. DeWinter" find an advertisement for a glamorous black dress, and she buys it, hoping to impress her husband? 
Answer: Intimidated by the memory of Rebecca DeWinter, Maxim's second wife is thumbing through an issue of Beauty magazine when she happens upon an advertisement for a glamorous gown with the tagline, "For a Gala Evening." It doesn't elicit the response she hoped for, however, though later in the film she discovers exactly why Maxim prefers her un-glamorous ways vs. the memory of his first wife.
Question #3: Cary Grant plays a ne'er-do-well gambler in 1941's Suspicion, and buys presents for everyone after hitting it big at the racetrack one day, including the maid, Ethel, who remarks, "What will my young man think?" What does he buy for Ethel? 
Answer: Grant's Johnnie Aysgarth gifts Ethel, played by Heather Angel, with a fox stole. Hitchcock would cast Angel again in 1944's Lifeboat, as Mrs. Higley, the woman with the baby who is rescued early in the film.
Question #4: Tallulah Bankhead name-checks this jeweler when discussing her diamond bracelet in 1944's Lifeboat. 
Answer: As everyone in the boat is trying to figure out how they might catch some fish so they'll have something to eat, Bankhead's Connie Porter holds up her diamond-bedecked wrist: "Sure we have bait — by Cartier!" She later adds, "I can recommend the bait. I ought to know — I bit on it myself." Unfortunately the bracelet, like several moments in Lifeboat, meets a tragic end.
Question #5: This is the first Hitchcock film featuring designs by Edith Head. 
Answer: Head's first credit in a Hitchcock film is as the designer of Ingrid Bergman's gowns in 1946's Notorious. It was the first of many collaborations between the costume designer and the director: Head also designed for Rear Window, To Catch a Thief, The Trouble With Harry, The Man Who Knew Too Much, Vertigo, The Birds, Marnie, Torn Curtain, and Topaz. Of Head's 35 Oscar nominations, only one of them is for a Hitchcock film, for 1955's To Catch a Thief. She lost that year to Charles Lemaire's work in Love is a Many-Splendored Thing.
Question #6: In 1948's Rope, what fashion item is accidentally handed to James Stewart's Rupert, convincing him that something has happened to his friend David?
Answer: Mrs. Wilson mistakenly hands Rupert the hat belonging to murder victim David Kentley, which Rupert realizes when he sees David's monogram on the inside band, thus confirming his suspicions that all is not what it seems.
Question #7: 1950's Stage Fright is the first film for which this legendary designer created costumes for Marlene Dietrich, a relationship that spawned her famous quote, "No [designer name], no Dietrich!" 
Answer: Dietrich accepted Hitchcock's offer to play diva actress Charlotte Inwood in 1950's Stage Fright, with one condition — that she select her own costume designer. Hitchcock hesitated when Dietrich named Christian Dior, a moment that spawned her now-famous phrase, "No Dior, no Dietrich!" The couturier and the actress were already friends, and Dior was a global sensation since the release of his "New Look" collection in 1947. His designs for Dietrich in the film — some spawning from his spring/summer 1949 "Trompe L'oeil" haute-couture collection.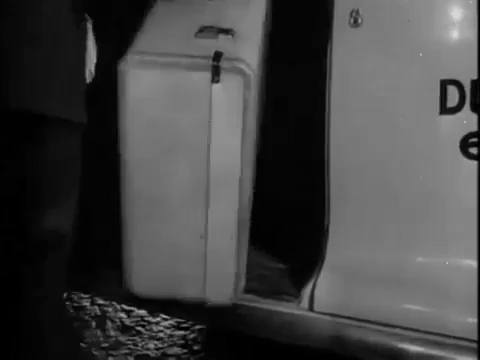 Question #8: In 1951's Strangers on a Train, what type of shoes is Robert Walker's Bruno Antony wearing when he steps onto the train, a choice that gives insight to his character? 
Answer: Hitchcock kicks off Strangers on a Train with two men pulling up to the station in taxis — before they're revealed to the audience, we only see their shoes as they walk into the station. The man soon revealed as Robert Walker's Bruno Antony is wearing decidedly flashy shoes: spectator oxfords, a note that seems perfect as we learn more about his character.
Question #9: In an early scene of 1954's Rear Window, Grace Kelly's Lisa Fremont mentions she had lunch that day with people from what fashion magazine? 
Answer: Kelly's first scene includes a description of what her glamorous character did that day, which includes a stop at the 21 Club on West 52nd Street "for lunch with the Harper's Bazaar people - that's when I ordered dinner," Lisa says.
Question #10: True or False: Hitchcock gave Edith Head instructions about the colors of Grace Kelly's gowns in 1955's To Catch a Thief. 
Answer: True. For Kelly's early scenes, when she is seen in evening gowns in blue or white chiffon, Hitchcock requested those colors to convey the idea that her character, Frances Stevens, is a bit of an ice princess. The gowns also had to feature lines ideal for pairing with jewelry; as the designer discusses in Edith Head's Hollywood, "Since Cary Grant was supposed to be a jewel thief, some of the gowns had to be designed around a piece of jewelry … Now this may sound simple, but it wasn't. The strapless gown had to have simple lines, so that it did not detract from the necklace, yet it had to emanate an haute couture quality that matched the luxury of the jewels. Hitch was very explicit about such things."
Question #11: In Vertigo, James Stewart searches high and low for the exact copy of what item of fashion for Kim Novak, based on his obsession with the woman he thinks is her doppelgänger? 
Answer: Stewart's character is driven by both love and guilt when he meets Novak's Judy, who he presumes is a lookalike of Madeleine — he proceeds to give Judy a head-to-toe makeover, with a trip to a department store that includes a search for the perfect gray suit. As she recalls in Edith Head's Hollywood, the designer had a bit of trouble convincing Novak on the suit's color, however. "I remember her saying she would wear any color except gray," she said of an early meeting; the note prompted Head to ask Hitchcock if the color was mandatory. "He explained to me that the simple gray suit and plain hairstyle were very important and represented the character's view of herself in the first half of the film. The character would go through a psychological change in the second half of the film and would then wear more colorful clothes to reflect the change." Novak relented, also because Head gathered several swatches of gray fabrics for the suit and let the actress pick her favorite, and thus an iconic style moment in a Hitchcock film was born.
Question #12: Hitch wasn't pleased with the costumes designed for Eva Marie Saint's sophisticated character in North by Northwest, so he took her to this New York department store to be outfitted.
Answer: At the Academy Awards in 2018, Eva Marie Saint presented the Oscar for Best Costume Design, and while doing so mentioned her North by Northwest experience with Hitchcock, when he "took me to Bergdorf Goodman, where together we chose some of the beautiful wardrobe, and my favorite was always the black dress with the red roses. Do you remember that, ladies?" We surely do.